Top-level Design, Procurement, Fabrication and Construction.
Cradle to Grave Management of Above-Ground Storage Tank Projects.
If you're looking for any type of field-erected tank, our engineers are experts in design required to comply with the rigorous standards across multiple industries regardless of the products stored. Our professionals serve on the API 650 oversight committee regarding the design, construction, and testing of above-ground storage tanks.
Additionally, upon mobilization to your site, our expert field crews use the latest and best field-welding equipment available. They fully understand the importance of maintaining project schedules and quality construction and adhere to our customers' and company's rigorous safety requirements.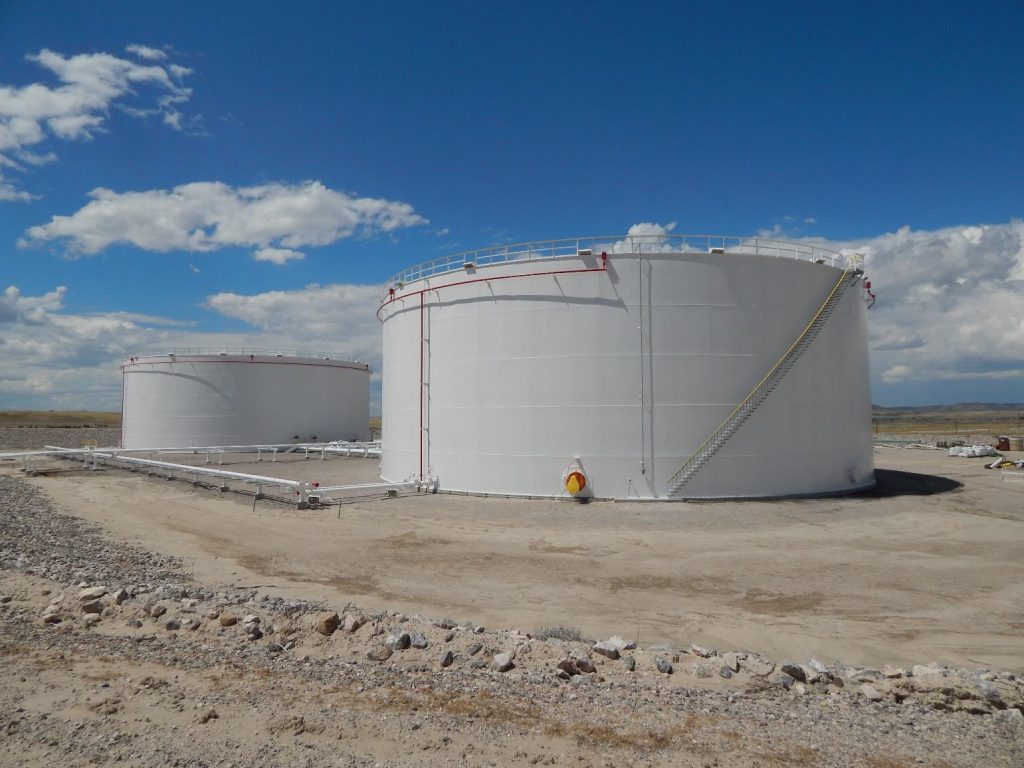 Typical above-ground storage tanks we provide
Cone roof tanks
Cone roof tanks with internal steel and aluminum floating roofs
Open top tanks with external floating roofs
Additional Above-Ground Storage Tanks We Provide
Self-supported umbrella roof or dome roof
Sloped-shovel type bottom tanks
API 620 double wall tanks for cryogenic applications
AWWA D100 standpipes and ground reservoirs
Thermal Energy Storage (TES)
Tank Maintenance and Repair Services
Maintaining the integrity of any above ground storage tank is key to preserving the life of the tank as well as adhering to industry and regulatory compliance.
After the tank has been inspected and a report has been generated, ATEC can assist with any tank maintenance or repair that has been identified within the API 653 Tank Inspection Report. Typical tank Maintenance and Repair services offered by ATEC, but not limited to include:
Foundation Settlement Solutions
Bottom Repair or Complete
Replacement
Shell Repairs
Fixed and Floating Roof Repair, Modification, or Replacement
Floating Roof Seals Repairs or Replacement
Tank Fittings & Appurtenance Repair, Modifications or Replacement
Stairway, Handrail, Platform & Crossover Additions, Repairs or Replacement
All structures require a solid foundation and tanks are no exception. With experience in a variety of tank foundations, our engineers ensure the right design and methods based on the needs of each specific job site and geotechnical report.
Once the tank foundation design has been completed, we work with a select group of subcontractors who specialize in tank foundations. Additional services required for tank foundations and available from us and could include any combination of the following:
Geotechnical Report
Site preparation and excavation
Containment dikes
Under tank liners
Leak detection
Cathodic protection
A durable finish and the proper lining will ensure a longer life for your tank. We can help identify the right internal tank linings and exterior coatings based on the product to be stored and the environment in which the tank will reside.
Additional services available:
Shop blast & prime
Customer logos and numbering
Galvanizing